Ouro - company environmental impact assessment
Ouro is a collaborative platform, developed by us, owned by Nativa Srl Società Benefit which aims to make companies aware of the environmental impact they have, in order to be able to identify solutions to make production processes more sustainable.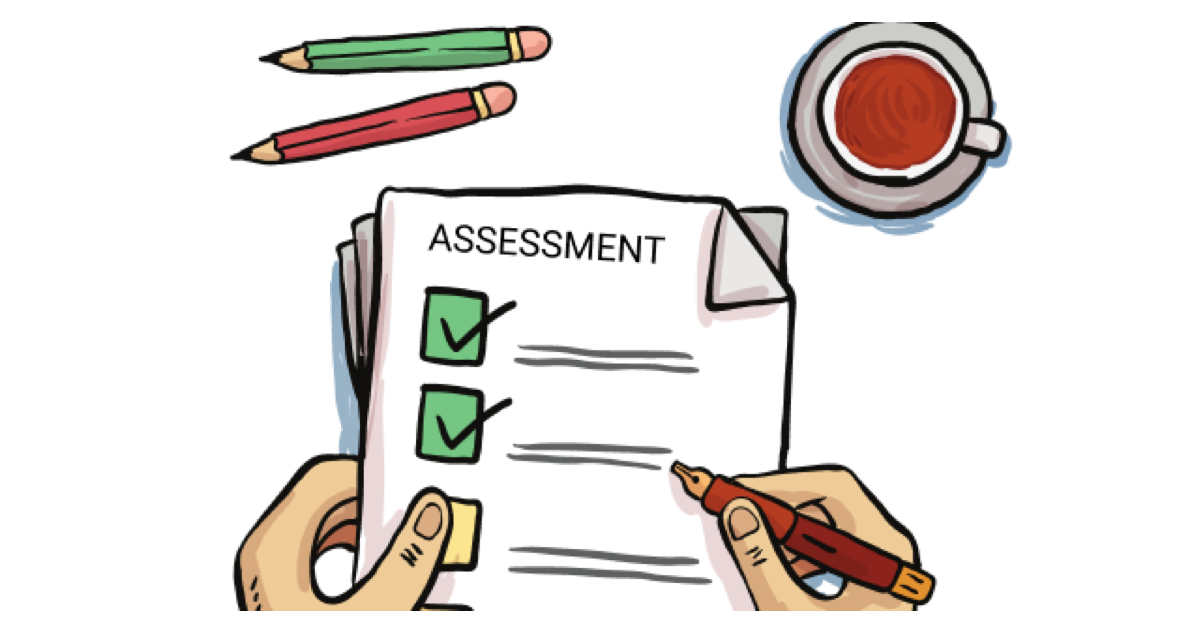 Through the use of OURO, companies analyze the entire production process of a product from the point of view of sustainability. In particular, they examine the following steps:
Raw materials
Production
Packaging, logistics & retail
Use & end of life
The analysis takes place through the interactive and collaborative compilation of a questionnaire.
The goal of the project
Nativa Srl turned to us to redesign the OURO platform which was now obsolete. The main goal was to make OURO more usable and innovative as well as cutting-edge from a technological point of view.
The main features
OURO hosts different types of users, each of which has different permissions on the platform. During the design, the admin, managers and users were identified. Managers and users are those who take care of filling out the sustainability assessment questionnaire while the admins mainly deal with administrative management and offer support to other users.
The interface
OURO's interface was developed using Angular. This choice allowed for faster development and the use of graphically consistent elements in the design of the interface.
From the point of view of the User Experience, OURO has been completely revolutionized. In fact, the flows have been made more intuitive and, thanks to the structure, it has been made easier to understand the matrix and the graphs that show the results of the questionnaire during the compilation, in real time. The graphs give users the opportunity to have an overview of the sustainability of the production of their company's products.
Graphically, OURO has been completely revised: the logo, the palette and the fonts used have been changed.
The graphic aspect
Here are some screenshots of the most important OURO's pages.
The highlight of OURO is definitely the questionnaire page which also contains the matrix that shows the progress of the questionnaire.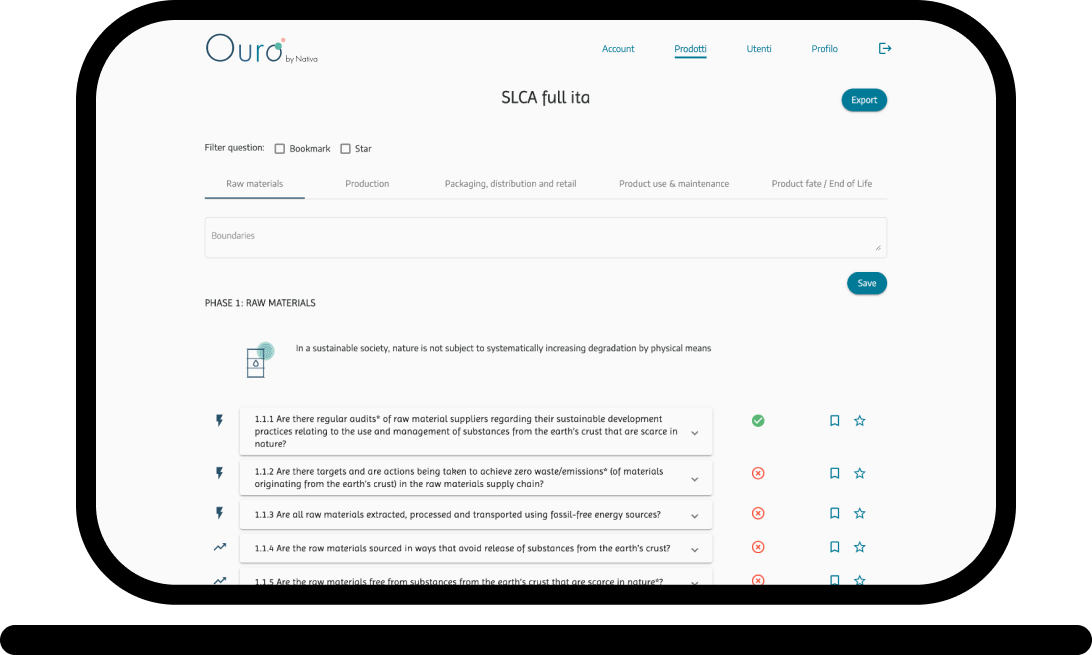 For each product, multiple assessments can be created and the page that shows the overall progress of all assessments is the one shown in the following figure.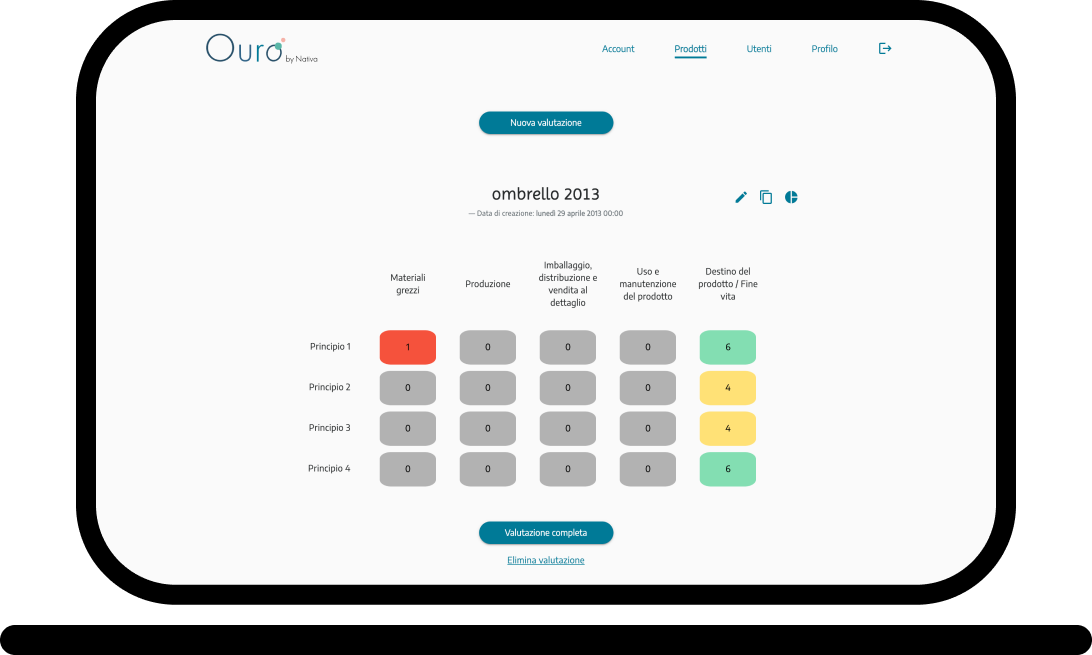 Another important page is that of the products where a customer can enter everything he produces. Each product will then have its own assessment.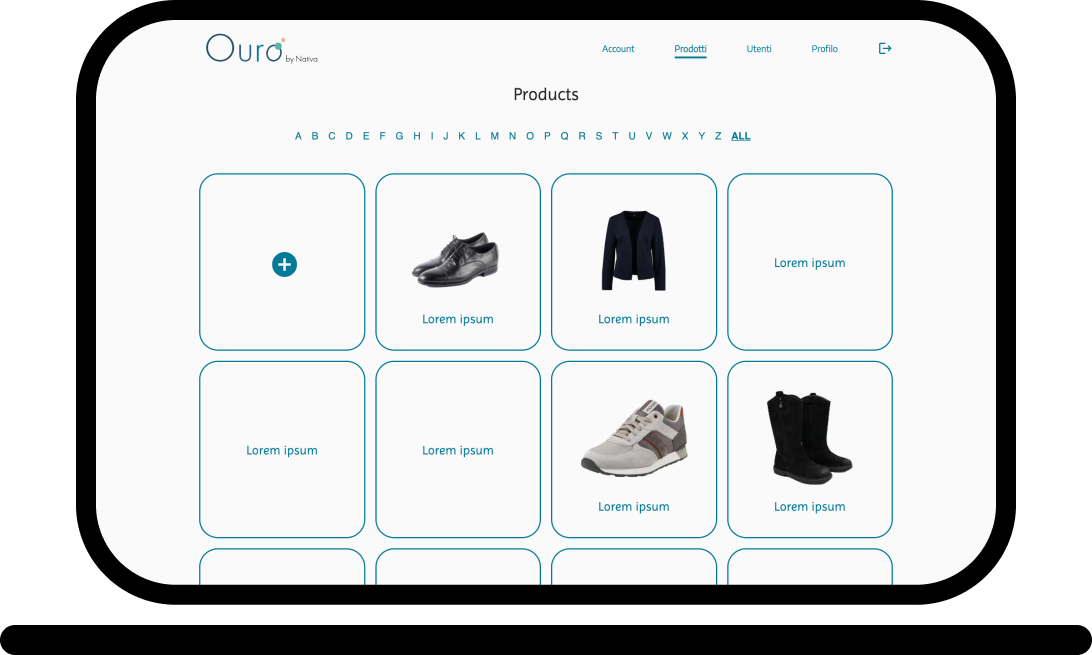 References